Sheryl Dunn
Managing Director
Sheryl created Nationwide Pathology with Jamie in 2011 following a long career in pathology; from completing her training in NHS laboratories to managing a private laboratory in Birmingham. Within our business, she focuses on the technical side and ensures that we are using the latest technologies to run our tests. You'll also find her liaising with customers and answering clinical queries when our clients have them. When not working, Sheryl loves to be relaxing in the sunshine and indulging in good food and drink.
Jamie Dunn
Finance / Business Director
Jamie set up Nationwide Pathology with Sheryl in 2011 whilst working at a leading law firm as a successful Construction Lawyer. A couple of years later he was "roped into" leaving the big city lights and working full-time within the business. When not in the office, Jamie enjoys holidaying, mowing his lawn and the finer things in life.
Victoria Dunn
Operations Director
Back in 2011, whilst studying Law, Victoria worked in the laboratory as a Biomedical Assistant around her course, and she's never left us! She now oversees the operations of both the laboratory and administrative departments as well as innovating and implementing new strategies to ensure everything is running smoothly. Outside of work, Victoria loves travel, shopping and more home renovations than she can handle!
Louanna Harrison
Quality/Laboratory Manager
After completing a degree in Biochemistry she went on to do a conversion and top up, obtaining a Biomedical Science Degree. Louanna joined us in 2013. She ensures we are performing well on our External Quality Assurances and we're following all our internal quality protocols. She makes sure that UKAS' and CQC's stringent standards are met and leads our annual inspections. Louanna is kept busy outside of work by her energetic son, Oliver, two Dalmatians, and trying to find some time to herself in between!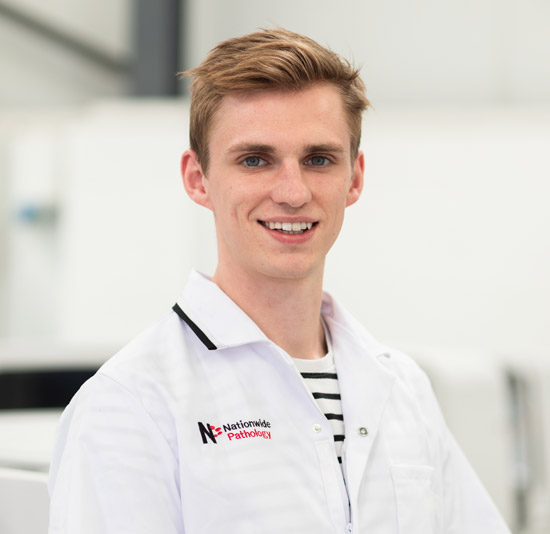 Jack Dunn
Business Development Director
Jack studied Business Management and Finance in London and spent several years working in healthcare recruitment. Now, he develops new business leads along with bringing in new tests and cutting edge machinery. When he is not in the office, you'll find Jack at the gym or on an outdoor pursuit.
Sarah Coughtrie
Laboratory Supervisor
After qualifying in 2003, Sarah embarked on her career in Biomedical Science in Automated Clinical Chemistry laboratories in the NHS. Before starting with us, she was most recently Chief BMS at University Hospitals Birmingham. She now oversees the laboratory and ensures that all our analysers are performing as they should. Outside of work, Sarah enjoys spending time with her son and husband and exploring new places in their trailer tent. Kathy Ward
Finance Manager
.
Trudi Brown
Client Account Manager
Trudi's background is Customer Service. She joined our Administrative Team in 2015 and quickly progressed to Office Manager. Trudi's role has now evolved into a Client Account Manager. She is often on hand to deal with customer issues or queries, helping with account management and the training of new staff. In her spare time, Trudi loves all things beauty, walking her dog Mia and spending too much money on clothes!
Lab & Customer Service Team
We also have a fantastic team of Biomedical Scientists, Biomedical Assistants, Administrators, Packing Operatives and Customer Service representatives. This ensures we provide the best possible service to our clients on a daily basis.